How do you remember your teenage years?
Like a smooth highway, high speed with no breaks, or a thorny path full of twisting and turning obstacles? However you experienced growing-up, we're pretty sure it involved challenges.
Adolescence is the most transitional time in a person's life. Both physical and psychological development coincide with intense peer pressure, school pressure, anxiety, stress, the risk of drugs, alcohol and other challenges.
25% of the world's population is under the age of 18
Having someone who listens and understands contributes to a young person's ability to increase self-esteem and develop stronger social networks, which, in turn, contributes to reduced isolation and increased integration between different groups in society. Mentor runs programs that provide strong adult roles models for young people all over the world.
Scientific evidence shows that having a positive adult relationship is one of the most important protective factors in preventing destructive behavior in young people.
We've all been there, and we all understand the trials of being a teenager. Let's have fun inspiring a more inclusive society and showing our support for a quarter of the world's population, who don't always have it so easy. Share anything from your terrible haircut and weird clothes to heartbreak and teenage trauma.
Think of the difference you can make by sharing your teenage you through #myteenageme!
What to do!
Share a teenage photo of yourself on Instagram, Facebook and/or Twitter.
Hashtag the photo with #myteenageme and tag/nominate three friends.
Go to myteenageme campaign site to donate to programs that support the well-being of young people and see teenage photos* of you and your friends!
* photos streamed via Instagram.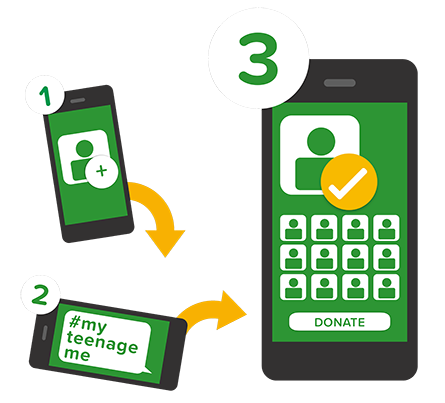 #myteenageme
You were a teenager once. Be part of our global yearbook!
Can't find your photo in the flow, or want to remove it? Read FAQs below.
Something is wrong.

Instagram token error.
To see the latest contributers on Twitter and Facebook, click the buttons below.
Q: How do I find my photo in the feed?
A: For your photo to be visible in the feed, it must be hashtagged with #myteenageme either on your Facebook page or Instagram account. Remember that it can take some time before your photo is visible, and that lots of photos are being uploaded at the same time. Refresh the feed a few times after you've published your photo!
Q: Why has my photo been deleted?
A: If your photo doesn't comply with Facebook or Instagram's content rules and guidelines, it will be removed both where it's been published and from our flow.
Q: How do I delete my photo?
A: We don't own your photo, and it's not published directly on our website. When your photo becomes visible in the feed, it's taken from our hashtag, #myteenageme. To delete your photo from the feed, either delete the photo from where you published it (Facebook or Instagram) or delete the hashtag #myteenageme from the photo.
If your image still hasn't been deleted, info@mentorinternational.org
Q: How will you use my donation?
A: All contributions and financial donations go to Mentor International's global work to support and help young people in vulnerable situations. Read more about what we do here!
Q: Is my information stored when I upload a photo?
Your personal information and content aren't stored after the campaign, only used during the limited period of the campaign. Read more about our policy here